Industry analysts tell us that battle lines are being drawn in the C-suite, as marketing heads embrace the rapid digitization of their work on one side and information technology heads try to make sense of new technologies on the other. Given the combatants' different personalities and back- grounds, IT is doomed to be "disintermediated," warns Gartner's Laura McLellan, who famously predicted that by 2017 CMOs will spend more on IT than CIOs will.
In contrast, Forrester's Sheryl Pattek warns CMOs not to go it alone but to align with the CIO on a joint vision for customers. Blogger Scott Brinker offers similar advice, telling CMOs to collaborate with the CIO and find the sweet spot of division of responsibilities between marketing and IT.
Faithful to CIO Straight Talk's mission of presenting the viewpoint of those working on the front lines of IT transformation, we were delighted to have a conversation with Rom Hendler, that rare senior executive who has practical experience in both the CMO and CIO roles.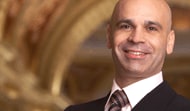 Before a recent promotion to the position of Chief Administrative Officer, Hendler was Corporate Senior Vice President and Chief Marketing Officer at Las Vegas Sands Corp., a developer of integrated resorts in the U.S., China, and Singapore that feature premium accommodations, gaming and entertainment, convention and exhibition facilities, and celebrity chef restaurants, among other amenities. The company, with revenue of $11.1 billion in FY12, currently has a market cap of around $60 billion. Beginning in December 2012, Hendler spent seven months as interim CIO, in addition to his duties as CMO, which gives him an unusual perspective on the potential and the pitfalls of the CMO–CIO relationship. Hendler joined Las Vegas Sands in 2000, when it had only one property — the Venetian — and he introduced scientific revenue management to the Las Vegas market.
Helping establish Las Vegas Sands as a serial innovator and participating in its rapid growth, Hendler moved quickly through various roles of increasing responsibility in marketing and operations. "Because the founder is very entrepreneurial, the company was not very structured," he says. "This was frustrating to me — I like org charts and I like well-defined roles and responsibilities."
The lack of structure, however, turned out to be a blessing in disguise: "It allows you to branch out, to do things that you don't have the opportunity to experience in a traditional organization. I got a lot of experience in a lot of different areas while the company was growing and expanding." As more of a traditional corporate environment was established to support the company's growth, Hendler in 2009 became Corporate Vice President of Strategic Marketing and, a year later, CMO.
The following is an edited transcript of Hendler's conversation with CIO Straight Talk Editor Paul Hemp.
Why did you take on the CIO role, in addition to your CMO responsibilities?
Even with the added structure as the company grew, there was resistance to hiring a CIO. The general attitude was, "Do IT people really  need a CIO? Can't they just turn the computers on and off?" I argued for and succeeded in getting everybody to understand that the CIO position is very important and impacts every element of our business. We hired a CIO, and when he left, I stepped in to fill the role temporarily.
Why you?
About 40% of my time at work is associated with technology. When I say "technology," I don't mean simply that I'm using technology. What I mean is I'm developing and evaluating and selecting technology. Although I'm technical for a CMO, I'm not very technical for a CIO. But because marketing is so affected by the performance of technology and IT, I felt it was an opportunity to bring the two closer together and move in the right direction, where the business needed to be.
What do you think about the "CIO versus CMO" talk?
You want to bring the two together, and you don't want to create more friction. There is no doubt that spending on technology related to marketing is going to grow. Technology in marketing is changing much faster than the technology you need to run the infrastructure. Today, marketing has new requirements as it merges many elements — big data, analytics, e-commerce, social media, revenue management, pricing, to name just a few. Marketing is trying to have a 360-degree view of the customer, so you can understand who they are and how to talk to them, and what to offer them and how to price your product based on what you know about them. And then you want to do everything in real time. How do you split the IT budget and who owns it? That's more of an internal finance and accounting decision. At Sands, we have a capital budget for technology, and we decide together what projects we want to work on next year.
What's new in the CIO and CMO roles?
Both roles are evolving, and the skill set is changing for both the CIO and the CMO. Traditionally, the marketing guy used to be a creative guy, usually from an agency or a big consumer brand background, and mostly worked on the brand, the advertising, and the communications. Today, that's not enough. Everything is shifting online. The moment that started to happen, everything became much more measurable. If you can measure stuff, and you're mainly a creative person, there is some kind of conflict. No wonder many CMOs have had problems in the past five or ten years with their CFOs.
In addition, big data is such an important part of the overall work today in marketing. Doing analytics is a very different skill set than just being a creative person. I think that the analytics part is becoming a more prominent skill, and the creative part is one that you can outsource more.
So the future belongs to quantitative skills?
I think that the mix of creative and quantitative is very important. Take pricing: Is it art or is it science? It's kind of in between. When I was responsible for pricing, I used to think of myself as a creative person; every- body else thought I was just a numbers guy. But there is a lot of creativity in how you present the price and how you position it and what you show first and how you talk about your product when you price it.
CMOs today have a better under- standing of technology and how to leverage it. And they know how to use all the data from social media and other sources to better understand customers and their behavior. What is the right time and the right offer to give to a specific customer? It's important for the offer to be creative, but if I give it to the wrong person at the wrong time, it's no good. CMOs are moving from a very creative skill set to a much more technical, analytical skill set.
And what's new with the CIO role?
CIOs used to be all the way on the other side. They were technicians. Normally, creative people don't really get along with technicians. The creative person wants the newest thing, even though they don't really know how to use it. The technician just wants to make sure that everything is working. The traditional CIO just wanted to keep the lights on and didn't want to hear about new stuff, because new stuff can break and cause issues and take down their systems.
Today, you see the CIO becoming much more business-oriented, someone who is looking out all the time for new technology and innovation, and understands the value this brings to the organization. They understand that if they don't bring in new technology, eventually their value will be diminished.
As the two roles are evolving, they're getting much closer. You would think that CMOs and CIOs would work much better together. But they need to know how to reach out to each other and ask for the professional help to get things done.
Does the growing importance of technology make you prefer developing applications in-house?
With the help of technology, you can differentiate your customer experience, you can enhance it and create efficiencies.  Companies that don't control the experience find it more difficult to compete.
We, as a company, realize — and it took us a while — that we are not a technology company. We are not an IT shop. We are in the experience business. As much as possible, we would like to leverage partners for the technology aspects of our business, as long as we find the right partners. We would like to do development as much as possible outside, not internally. We are sometimes limited by regulations about what we can do outside. But in general, we always prefer to work with outside vendors.
What are you most proud of that you've done in your CIO role?
I think it was establishing the process for setting up the priorities for IT.
The challenge is that everybody's asking for stuff from IT all the time, and IT is saying no all the time, because they just can't do everything. You should never say no. You should always say, "Yes, we can do it, but here's the cost associated with it. Either we need to hire more people or we need to go outside." This helps you set priori- ties that are dictated by objective financial considerations, instead of saying yes to the people who make a lot of noise, at the expense of some- one whose business needs may be more important. I pushed on the business in each unit, in each region, to have one senior owner who decides priorities and what's going to be done by IT. Now we sit around a table, there is a process, we understand what resources we have, we understand what the ROI will be and what is the cost. Every- body argues for their project, and then we decide which project is going to be done and when.
Originally published in CIO Straight Talk, No. 4 (December 2013)